Overview
Step aboard for a seven night small-ship cruise holiday from the harbour town of Dubrovnik. You will head north-west to some of the most beautiful islands and towns in Croatia, such as Hvar, Korčula and Pomena. Sailing from one charming spot to another, basking in the sun out on the deck and enjoying a swim in the blue, shimmering waters will make this a holiday to remember.
What's included?
Transfers: Return airport transfers
Accommodation: 7 nights' accommodation in cabin with double bed and en-suite
Meals: Half board (dinner on day 1, 7 breakfasts, 6 lunches)
Please note that a tourist and harbour tax is payable locally on disembarkation. This costs approximately 3 euros (or 22 kunas) per person per day
---
The Croatian islands that are dotted along the Adriatic Coast are home to beautiful beaches, secluded coves and charming towns and villages. You will travel aboard an intimate small ship, with a maximum capacity of either 32 or 42 people, sailing from the ancient and beautiful town of Dubrovnik to a variety of islands and towns filled with history, culture and beauty. The pace of this Croatia cruise holiday is relaxed and you are free to sit back and unwind on the deck or head out to explore the sights that you will be visiting along the way.
Sailing through the Adriatic and along the coast of middle Dalmatia, the vistas are simply stunning. With jagged mountains, rolling hills and pine-covered islands, this is an idyllic part of the world. You'll get to visit places such as Korčula, supposedly the home of the great explorer Marco Polo, and home to one of the finest medieval walled towns in Croatia. Another stop on the way is Mljet Island, a national park and home to a variety of flora and fauna, as well as a former Benedictine Monastery. The island is so beautiful that it is believed to be one of the islands that Odysseus is stranded on in Homer's epic.
Read more
Bursting with history and legend, this part of Croatia is also home to some incredibly cosmopolitan towns and cities that are filled with vibrant restaurants, cafés and bars. You'll be visiting Hvar and Dubrovnik, which have some of the most buzzing atmospheres in Croatia and are great places to soak up the culture, unwind and relax.
On top of all this, Croatian food is delectable: fresh seafood, gorgeous salads and flavoursome local wines and beers help to make this one of the most enjoyable destinations on offer, so get those deck shoes at the ready!
© Gulliver Travel, Ivo Biocina and Croatian National Tourist Board
View Gallery
Download Dossier
Key facts
| | |
| --- | --- |
| Duration: | 7 nights |
| Pace: | Balanced |
| Suitable for: | Ages 18+ with a reasonable level of physical fitness. See our terms for further information |
Make an enquiry
Agenda
Accommodation
Included in price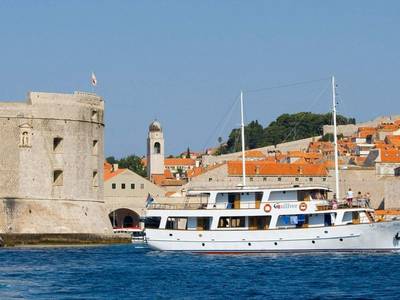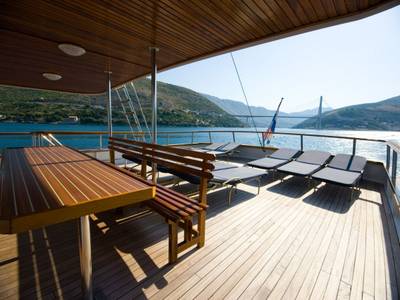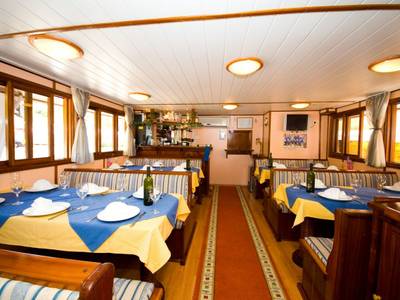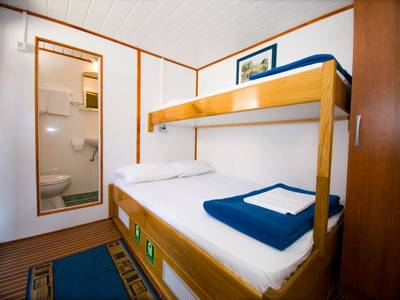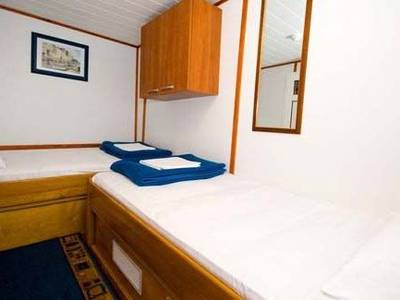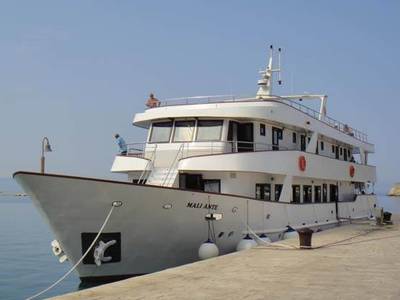 MS Otac Nikola or MB Mali Ante
Nights:
1-7
During your cruise along the coast of Croatia, you will be staying aboard either the MS Otac Nikola or the MB Mali Ante, making stops at the historical cities of Jelsa, Makarska, Korčula, and Dubrovnik. The MS Otac Nikola can accommodate between 28 and 32 passengers, allowing everyone to enjoy their own space whilst interacting with the other guests aboard the boat.
Visit exclusive places such as national parks where larger vessels cannot get to because they simply cannot fit!
Enjoy drinks and food from the on-board bar and restaurant (drinks payable locally)
Grab a sunbed or sunchair which you will find scattered around the upper deck and enjoy the stunning views as you sail through the beautiful Adriatic Ocean
Cabin accommodation
Your stay will be within a two or three bed cabin on the lower deck, each with a private, en-suite shower room with toilet; one towel per person is included. Each cabin is fully air-conditioned. Upgrades to the upper deck can be included, with these cabins having windows, rather than portholes. Each cabin is roughly 6m² in size, with a separate en-suite room.
MB Mali Ante
Alternatively, you will stay aboard the MB Mali Ante, which can accommodate between 38 and 42 passengers. As with the MS Otac Nikola, you will stay in a two or three bed cabin on the lower deck, with a private, en-suite shower room with toilet and full air-conditioning. Each cabin is roughly 6m² in size.
As with the MS Otac Nikola, the MB Mali Ante has an on-board bar and restaurant, as well as a sun deck for relaxation.
Please note: due to specific requirements in some of the harbours, it is possible that ships will be tied sideways to each other and that passengers will need to transfer from one ship to another in order to get to shore. Please be careful when transferring from ship to ship and should you need assistance the crew members will be glad to provide this. All boat routes are dependent on the weather and therefore may be changed by the Captain.
Image credits: Gulliver Travel (

Please note that the images displayed are of both the MS Otac Nikola and the MB Mali Ante')
Read more
Read less
---
Other options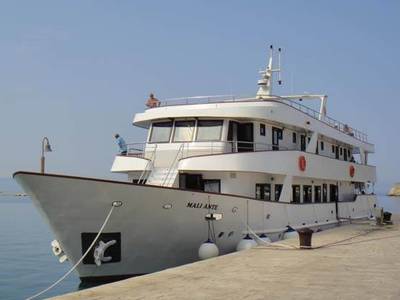 Upgrade your cabin
Supplements from: £94pp
For this trip you will be staying in a standard cabin on the lower deck of the boat. Why not upgrade your cabin? You can choose either the main or upper deck for a bit of extra room and a larger window. Perhaps you want to have easy access to the sun loungers, or admire the blue seas as you sail past.
Personalise
Personalise this tour
---
Our pick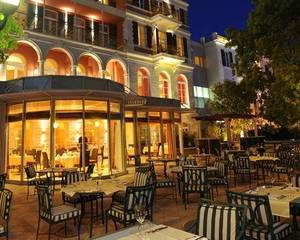 Extend your stay in Dubrovnik
With so much to see and do in Dubrovnik, why not extend your stay at the Hilton and spend some more time enjoying what this amazing part of Croatia has to offer. Perhaps explore Dubrovnik a bit more, enjoying the restaurants, cafés and bars, or maybe even head off for a day trip to one of the many beautiful islands dotted along the coast.
Please speak to out Travel Experts for a quotation.
---
Warning
: uasort() expects parameter 1 to be array, null given in
/data/web/test.artisantravel.co.uk/templates/artisan/html/com_zenholidays/holiday/default_personalise.php
on line
86
Dates & Prices
We include more, no hidden costs
On each of our holidays you will see a clear outline of exactly what's included in the price of your holiday. We never use 'headline' or 'lead-in' prices like so many tour operators, as we prefer to include as much as we can, rather than see our clients incur considerable additional costs in our destinations.
Prices
Terms
For our full booking terms and conditions please click here
Holiday group size (approximate)
MS Otac Nikola (between 28 and 32 passengers); MB Mali Ante (between 38 and 42 passengers)
Group sizes
Most of our holidays require a minimum number of participants to operate. Minimum numbers are detailed on each holiday page and are always approximate. Group sizes for tailor made holidays will vary for each of the activities. For private departures you may also be joined by other guests during the activities unless you have discussed specific private activities with us.
If your selected date has not yet reached minimum numbers you will be informed at the time of booking. In the unlikely event that your chosen date has not reached the required minimum numbers nine weeks before your scheduled departure date we will contact you and discuss the various options available to you. We will always do all we can to operate a holiday and in some cases we may be able to operate the holiday by combining your itinerary with that of other guests for some activities (this may mean that the maximum group size is increased but this will be discussed in full with you).
If we are unable to operate the holiday then you will be offered the chance to transfer to an alternative holiday or date (subject to availability). If the alternative is more expensive you will be asked to pay the difference, if it is cheaper then you will be reimbursed. You will also be offered the option to cancel and receive a full refund of all monies paid.
Minimum age
Whilst Artisan Travel only sells holidays to those aged 18 years and over on a small selection of holidays there may be those under the age of 18 who have booked with other companies and where our local supplier also allow those under 18 to participate (additional activities during tailor made holidays for example). Our travel experts will answer any concerns you may have in this regard.
Medical History and advice
You must inform us at the time of booking if any of your party has a disability, medical or behavioural conditions which could affect their own participation in the holiday or indeed that of the other people on the holiday.
We cannot be held responsible for any incident or event arising from your failure to do so.
Experience and fitness
Any activities included in your itinerary are all designed for beginners. Full instruction and tuition is provided for all activities and you do not need to have any previous experience. For example you need never have set foot on a pair of skis of any kind before a cross-country ski tour. We have adults of all ages and fitness levels taking part in our holidays.
We do highlight certain itineraries where an increased level of fitness is required.If you have any questions at all with regards to fitness levels please get in touch and talk to one of our experts. You can find further details in our trip preparation section online. You must inform us at the time of booking if any of your party has a disability, medical or behavioural conditions which could affect their own participation in the holiday or indeed that of the other people on the holiday.
Guides and safety
It is absolutely essential when partaking in any activity that you listen very closely to, and abide by, the instructions provided. Nobody knows the environment better than our activity providers who work here almost everyday.
Consequently, their knowledge and experience is unsurpassed. If there is anything that you are unsure of during a safety briefing or that you would like to clarify with the guides please make this clear to them immediately before starting the activity.
There may be rare occasions when our guides consider local conditions unsuitable for a certain activity. Hence, your itinerary may be subject to change at short notice but we will always endeavour to firstly find a replacement on the day and secondly, to provide the cancelled activity later in your stay whenever possible. Very occasionally it proves impossible to provide the activity in which case you will be refunded when you return home.
Our guides' word on activities is always final and your safety is their principal concern at all times, please respect their decisions. By following their instructions, your safety and enjoyment during each activity will be greatly enhanced.
You must inform us of any medical conditions that may affect your participation in an activity at the time of booking.
Booking activities locally
In almost all of our destinations you can book and pay for additional activities locally. Please note that we cannot be held responsible for any injury or loss that occurs through any activities that are booked in your destination (see our terms and conditions for further details).
Please always ensure that your safety is your primary concern when arranging any such activity.
Car Hire
If your trip includes car hire the named driver must have a credit card registered in their name which they can present when they collect their car along with their driving licence, as a deposit will be held on the credit card. Please see your trip dossier for full details.
Cancellation terms
Please note that the following cancellation terms supersede those mentioned in section 7 of our general booking terms and conditions.
- More than 63 days prior to departure - Loss of deposit
- 63 to 43 days prior to departure – 40%
- 42 to 29 days prior to departure – 60%
- 28 to 16 days prior to departure – 80%
- 15 or less days – 100%
Reviews
Traveller Reviews
We had the most amazing week
10 June 2017
by Anantbala Quilter & Kumudben Morton
We had the most amazing week. The crew were fantastic. They took great care of us. The rep Bruno looked after us v well. Overall the trip was fantastic. Allan and the team at ARTISAN TRAVEL were extremely helpful from start to finish. We were driving to Dubrovnik to board the ship and the directions were faultless. Allan thank you for going out of your way to look into the parking. The car park…
Read more was safe and a 2 min walk from where we had to board the ship and disembark. Thank you.
Read less
This holiday was ideal for a relaxing break
13 May 2017
by Moira & Neil Fairweather
The scenery was wonderful and this early in the season places were quiet which suited us. The local guide and crew were friendly and helpful.
Overall this has been the best holiday I think I have ever been on.
24 September 2016
by Holly & George
Overall this has been the best holiday I think I have ever been on. Completely stress-free (once I decided to book a taxi to the airport on the UK side rather than get a train!). Before the holiday your agents helped me find cheaper flights and organised food and transport despite the fact that this made us later than the rest of the guests. Incredibly happy with everything, thank you! We have…
Read more never done anything like this before, a boat cruise or Croatia, so didn't really know what to expect. The boat was fairly small (a good thing) with about 30 occupants and therefore it was a small crew of about 6 people which meant you got to talk to them all and get to know them. The chef was Italian and the food we received was absolutely incredible. When we heard we were going to be getting breakfast and lunch each day we thought it would be a sandwich based lunch but in fact, we got three-course meals every day! This meant we didn't really need to buy any extra food (we did though just to try the local cuisine). We normally keep ourselves to ourselves on holiday but we sat with a couple from New Zealand on the first day and ended up making very good friends and we are now planning to travel to New Zealand to stay with them. There was a large variation in age on the boat, my husband and I in our 20's and ranging up to roughly 75 but this was fine as you could plan whatever you fancied on shore - my husband and I opted for higher energy activities each day but you could have easily chosen to wander slowly round the town or stayed on the boat admiring the views. Everything was incredibly easy from travelling to eating to planning our days so no stress. I am so happy I booked this and for the price I paid it has massively exceeded my expectations.
Read less
A relaxing holiday in Croatia
10 September 2016
by Kathryn & Nicholas Heirons
It was a relaxing holiday where we got to see some beautiful, quieter parts on the Croatian islands as well as visiting Dubrovnik and the better-known harbours. The crew were very friendly and the chef produced delicious lunches. The cabins were comfortable with good ensuite facilities. Air conditioning was available throughout the night, not just for a couple of hours. It was a cosmopolitan group…
Read more with other guests from Scandinavia, France and Germany. There was an opportunity to hire cycles at most islands which was a nice change from lounging on deck!
Read less
Croatia July '16
09 July 2016
by Lynda and Trevor Walkington
---
---